Skip to Content
Disinfection Services for Your Safety
We all know the COVID-19 pandemic has taken a toll and placed immense stress on business owners across the country. We are proud to offer our services to help our customers in the best way we know-how during this time. Crystal Janitorial is offering a comprehensive disinfecting service that kills bacteria and viruses with electrostatic technology, including COVID-19, within minutes. Our professionals are ready to help you, your employees and your family feel as safe as possible during this stressful time. Contact us today for a free estimate.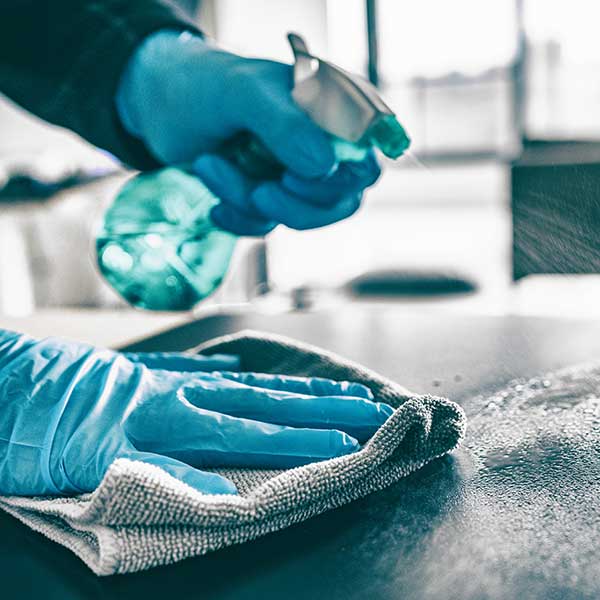 A Complete Cleaning You Can Rely On
Our disinfection service is performed by our team of professionals who have undergone specific training on this process. By request, we can also provide you with a Material Safety Data Sheet outlining the disinfectant product we use for this. We want you to feel confident in the skill set of our team as well as the safety of our products. Our team walks through the following steps during this process, which can be provided daily, weekly, or bi-weekly:
Wash and clean the area with a wet cloth and cleaning chemical
Wipe the area to remove any dirt
Spray or wipe down the area with a disinfectant product
Leave the solution to sit on the treated area for 3-5 minutes
Wipe down all treated areas with a second coat of disinfectant
Cutting Edge Disinfection Technology
Our efforts to stay ahead of the cleaning technology curve don't stop when it comes to our disinfection services. In order to fully sanitize your facility, our team uses an Electrostatic Spray Machine during our disinfection process. This technology uses an electrical charge that ejects an appropriate amount of disinfectant onto all surfaces. It allows the product to wrap around and evenly coat all types of surfaces, including carpets and floors, to reach places that might normally be missed. With disinfection services from Crystal Janitorial, you can have confidence in our attention to detail. We'll sanitize every inch of your residential or commercial space to ensure you remain as safe as possible.
Get Started Today With a Free Estimate!